MIDAS Administrator
Process-Oriented Workflow

Highlights
Transparency: Improve your IT organization by expanding HPOM to a process-oriented way of working.
Distribution: Replicatable packaging processes and the ability to transfer monitoring items save time and money.
Control: Enable release-to-production within HPOM with the ability to do roll-back changes.
Quality: Verify configuration changes before deployment to increase reliability.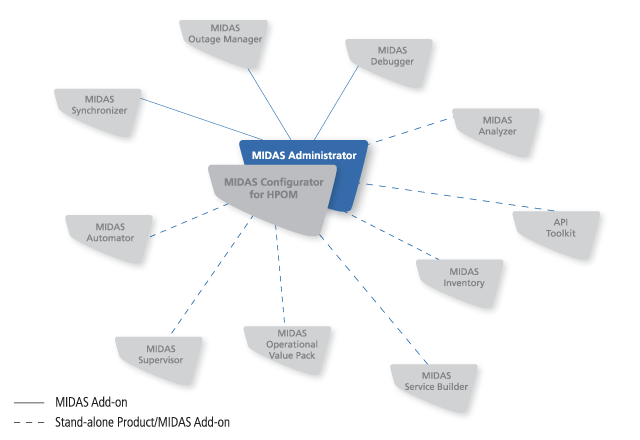 Gain Productivity
Significant productivity gains can be achieved by improvements on a process level. This principle currently guides many of the changes within IT organizations. Implementing process-oriented workflows has proven to be difficult within monitoring environments due to an absence of appropriate functionalities in standard products like HPOM.
MIDAS Administrator is a powerful tool that provides these functionalities, allowing the introduction of a process-oriented approach to HP Operations Manager software (HPOM). By supporting best practice processes, the development of monitoring operations can be rapidly improved, increasing the overall quality of your monitoring solutions.
Monitoring Packages
A typical HPOM installation may consist of thousands of policies, hundreds of scripts and many other configuration items, all of which have to be monitored. Typically the items required for monitoring a specific application or service are undocumented and administrator-based knowledge. This makes it difficult to maintain monitoring and over time leads to reduced productivity.
MIDAS Administrator provides an easy and simple mechanism for bundling all items required for monitoring a specific application or service into a Smart-Plug-in-like package. By defining the relationship between the individual items, you can make the knowledge available to all administrators and turn the monitoring packaging and transfer into a replicatable process.
Monitoring packages are stored in a version control repository which is separated from the respective HPOM servers. This makes them independent from any changes. Administrators can install packages on HPOM servers with a few simple steps. Packages installed on a specific server can easily be listed allowing the current configuration to be compared to the official package – enabling you to quickly find any differences.
Release-to-Production
MIDAS packages enable you to control the process of releasing new monitoring packages into production and provide you with the crucial ability to roll-back package releases if problems occur.
The concept of a roll-back plan is well-defined within ITIL but until now it has been difficult to implement within HPOM. MIDAS Administrator provides full roll-back features as an out-of-the box solution.
Desired State Verification
HPOM configuration is deployed to all individual nodes. Each time a configuration is changed, it must be redeployed to the HPOM nodes. Deployment problems cause unexpected errors like, for example, incorrectly generated messages or the failed generation of an expected message within an environment.
MIDAS Administrator provides a desired state verification functionality which allows you to produce a report to verify if the agent has the correct configuration. You can then apply corrective measures based on this report. This helps avoid errors before they happen.

Excel2Policy:
Round-trip engineering – go from a HPOM configuration to Excel and back again. Create Excel-based documentation of your current monitoring. Modifications can be made directly in the Excel sheets and these can then be re-imported into HPOM.
Packaging concept:
Create manageable blocks of monitoring configurations related to a single application or specific service.
Release-to-production:
Create a controlled, replicatable process for moving monitoring from a development environment to a production environment.
Desired state verification:
Verify that the correct versions of the policies are deployed to the agent.
Deployment monitoring:
Manage the full life-cycle of your monitoring solutions. View, cancel or restart tasks.