MIDAS Outage Manager
Scheduled Outage Self-Service Management
Highlights
Optimization: Improve monitoring by enabling outage management within HPOM.
Collaboration: Reduce administrative tasks by delegating outages from the administrator to the application owners.
Flexibility: All enterprise needs are covered by unlimited possibilities for configuring outages.
Transparency: Full reporting of past, present and future outages and changes guarantee proper auditing.
Quality: Reduce administration effort and increase outage accuracy to improve the handling.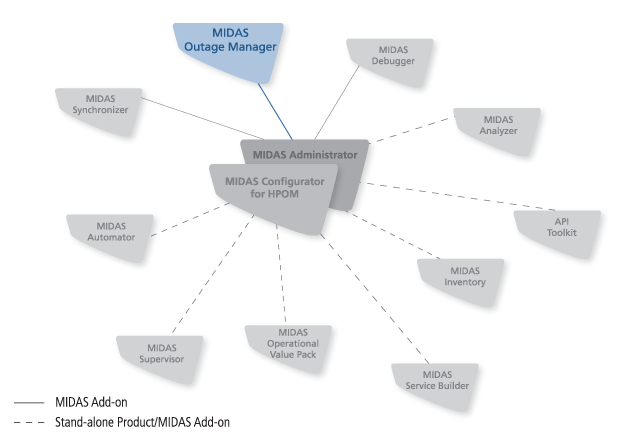 Necessity Outages
Outages, which are defined as the ability to suppress or disable the monitoring for a specific monitoring subset on one or more nodes, are a necessity in most enterprise environments. However outages are difficult to manage within HPOM. Creating outages can be tedious and coordinating anything more than a rudimentary configuration can become an administrative challenge.
Outage Management
MIDAS Outage Manager simplifies the usage and management of outages within HPOM. It plugs directly into your existing MIDAS/HPOM environment giving you a consistent user interface. Web-based access, self-service, transparency and reporting are fundamental MIDAS concepts that are also applied to resolve and simplify the configuration of your outages. Reduced administrative effort, better quality and higher accuracy of outages are the business benefits of the MIDAS Outage Manager.
Self-Service Model
One of the main features of MIDAS Outage Manager is the self-service monitoring system. To increase productivity, monitoring has to be streamlined and communication overheads reduced wherever possible. By allowing the service or application owners to define when their application is off-line, you delegate the responsibility to those people who have the specific knowledge of that service or application.
Administrator vs. Operator
By separating the setup work from the administrator's daily work, you can hide the setup details, ensuring that your operators have a simple and easy-to-use interface. Reporting features and alerts ensure that your administrators retain the overall responsibility and are continuously aware of the current status.
Self-service:
Delegate the responsibility for outages to the service or application owners, allowing them to create outages and to bring nodes or services back online – all from within a plain and simple web-based interface.
Administrator vs. operator roles:
The HPOM configuration requires a clear separation of tasks. The administrator always has full access but an operator or application owner only uses a simple interface for his tasks without seeing the implementation details.
Flexible configuration:
You can configure the outages based on the full functionality available in HPOM based on what suits your environment best.
Create service hierarchies:
Define service dependencies and interactions between the hierarchies.
Simple configuration of time-based outages:
Select the node from the service and define when the outage should start and end at an estimated time. All outage rules are generated automatically.
Reporting:
Get a quick overview of which services on which nodes are offline. Generate automatic reports which can be emailed to service owners, administrators and managers.
Alerting:
Receive notifications when an outage either extends beyond its estimated end-time or when predefined alerting points are crossed.
External interface:
Integrate and manage outages from external tools with a simple external interface.
User role model:
Define exactly which users can view and modify which services.
MIDAS Outage Manager is an add-on to MIDAS Configurator and MIDAS Administrator.
MIDAS Outage Manager can be installed with the standard MIDAS installer as a selectable option or easily added to an existing installation.
MIDAS Outage Manager can be combined with any other add-on of the MIDAS Product Family.