MIDAS Synchronizer
Manage Replication Across Multiple HPOM Servers

Highlights
Integrity: Save time by enabling automatic configuration replication within HPOM.
Coherence: Stay up-to-date by keeping data synchronized after changes in the GUI or the command-line interface.
Flexibility: Supports various IT architectures out-of-the box, ready for dynamically changing enterprises.
Recovery: Keep production up and running by restarting systems instantly even after a disaster.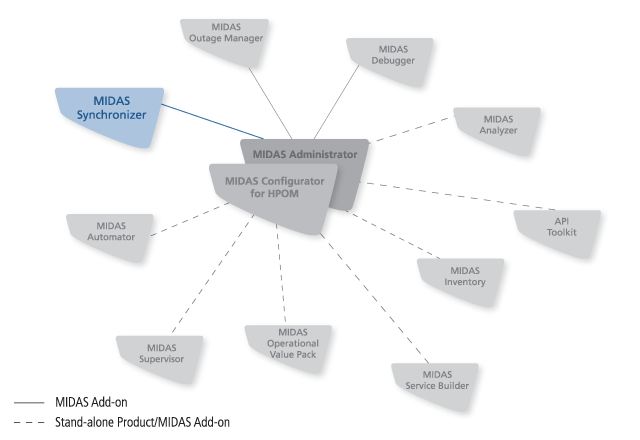 Replicate Configuration Changes
At some point, most environments will have multiple HP Operations Manager (HPOM) servers – either to try and improve the monitoring availability or to increase scalability. The ability to run multiple HPOM servers parallel is one of the major strengths of HPOM. The replication of message data is included in the standard product. Until now however, there has not been any product-based solution, which allows the replication of entire configuration changes.
MIDAS Synchronizer can replicate all configuration changes across multiple HPOM servers. Any changes made in the MIDAS GUI or via the MIDAS command-line interface (CLI) are automatically replicated across all the configured servers. Guaranteed delivery and sequencing of the configuration changes means that all servers within that environment will always have the latest configuration and can instantly assume the primary role without any loss of configurations or messages.
HPOM Server Pooling
MIDAS Synchronizer provides out-of-the-box support for HPOM server pooling and hot and cold standby configurations, giving you flexibility when designing your HPOM architecture.
Server pooling is an alternative to conventional hardware level clustering. The main advantage of server pooling is that you have two completely separate installations running on completely separate hardware. This improves the supportability of the environment, for example for patching. Configuration changes must be replicated between all servers if there are multiple separate server installations within the server pool.
The typical download/upload method is an unsatisfactory solution because the replication frequency is very low causing additional load on both servers. With MIDAS Synchronizer changes are available immediately without any extra load on the individual servers.
Disaster Recovery Configuration
MIDAS Synchronizer supports hot and cold online disaster recovery configurations. The configuration replication works exactly like in a server pool. For cold standby servers, the configuration changes are stored in a combination of a full configuration download plus a log of all the changes that have occurred since the last download (similar to a database transaction log). When taking over from a failed server, the standby server first applies the full download and then the change log. This method ensures a fast and complete configuration replication.
Command-Line Interface
As an alternative access method, MIDAS Synchronizer includes a command-line interface. Like the MIDAS GUI, it allows you to replicate any command-line action across all servers in your server pool. By pushing such calls through MIDAS, delivery and sequencing are guaranteed together with all GUI actions that occur.

Near-time replication:
All changes are replicated within the MIDAS communication bus and changes occur immediately on all servers.
Guaranteed delivery and sequencing of configuration changes:
If a server is temporarily unavailable, changes are buffered and transferred as soon as the server is online again.
Efficient communication:
Only the changes are communicated between the servers. This generates no extra load on the source or target servers.
Support of server pooling and hot and cold standby servers:
With the support for different multi-server setups, you have architectural flexibility – now and in the future.
Familiar GUI:
Synchronization is completely transparent to the user – it happens automatically in the background.
Product-based solution:
All functionalities to delete maintenance-related self-developed scripts are available.
MIDAS Synchronizer is an add-on to MIDAS Configurator and MIDAS Administrator.
MIDAS Synchronizer can be installed either with the standard MIDAS installer as a selectable option or easily added to an existing installation.
MIDAS Synchronizer can be combined with any other add-on of the MIDAS Product Family.